I don't usually use nourishing oils, but I got temped by an article in a magazine to buy Dermo Oil Multi-Active. I read opinions online and as it turns out it is extremely valued and universal natural oil for skin nourishment. And you know what? I cannot live without it, that is truly my favourite cosmetic of all time!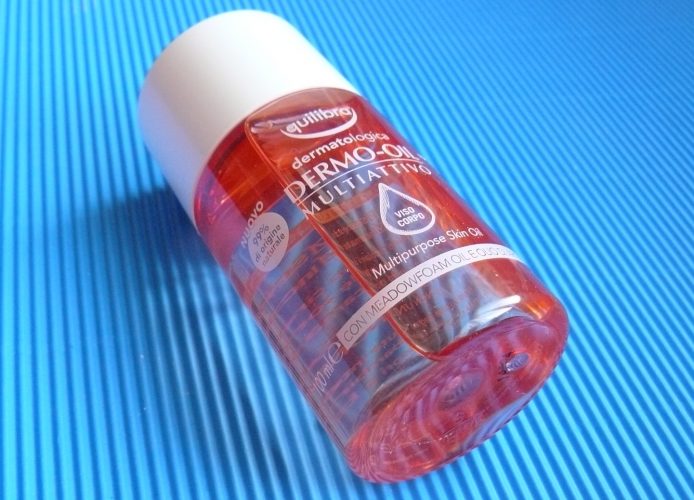 Equilibra Demo Oil Multi-Active has a 100ml bottle made out of quite soft plastic. Pink packaging with white top contains oil made of natural ingredients with an interesting formula. Dermo Oil has greasy, oily consistency, but at the same time has more of lightweight formula than other body oils. Big plus is also great and pleasurable scent, sweet and a bit almond like. It is one of those products, which I love to smell before application.
This brand of nourishing products, which greatest cosmetics are produced on aloe vera base, this time around decided to try a bit different composition of natural ingredients. Dermo Oil Multi-Active has five concentrated vegetable oils and nourishing ingredients:
nourishing Argan Oil with anti-ageing properties,
Sweet Almond Oil that smoothers and soothes irritations,
elasticity providing Grapes Seed Oil,
antioxidant Meadowfoam Seed Oil with moisturising properties,
Vitamin E for even skin tone.
I admit, I like universal oil from Equilibra. Manufacturer ensures that it works on five of the most common skin problems: scars, stretch marks, dryness, discolouration and first signs of ageing. I may not have stretch marks, but few smaller scars really disappeared after first week of use of this oil. Honestly, I didn't even think about application of Dermo Oil Multi-Active as a scar product – it just happened, so I was positively surprised. Sadly, I can't judge rejuvenating properties of oil, because I don't have any signs of ageing yet (luckily!).
I cared about elimination of dry skin and discolourations. Since I remember I had problems with my skin, it was highly atopic and sensitive. Multiple times I felt effects of dry skin, flaking epidermis and redness. In this moment I should thank the manufacturer of Dermo Oil Multi-Active! Equilibra oil is truly very subtle and safe for skin product. It doesn't cause irritations (like other cosmetics did), and even soothed my skin, which gained deep moisturise and equal, healthy colour. Best thing is that the effect is extremely long lasting!