Hello girls! Today I would like to present three Clarins Boosters!
Some time ago I went to Sephora to do a little make-up shopping. Quite by accident I came across a small, but very nice cosmetic. It is the one and only Energy Booster from Clarins. Just take a quick look at the packaging and you will instantly fall in love with it. It looks like a mini time capsule. Both, the top and bottom are closed with a golden cap and in the middle you can see an orange bottle. Of course, you could easily spot the other two products standing next to it on the shelf. These are Clarins Boosters called: Repair (blue) and Detox (green). I could not make up my mind which one I should take so I decided to buy them all. After trying out all three products, I am ready to present an honest review about each of them.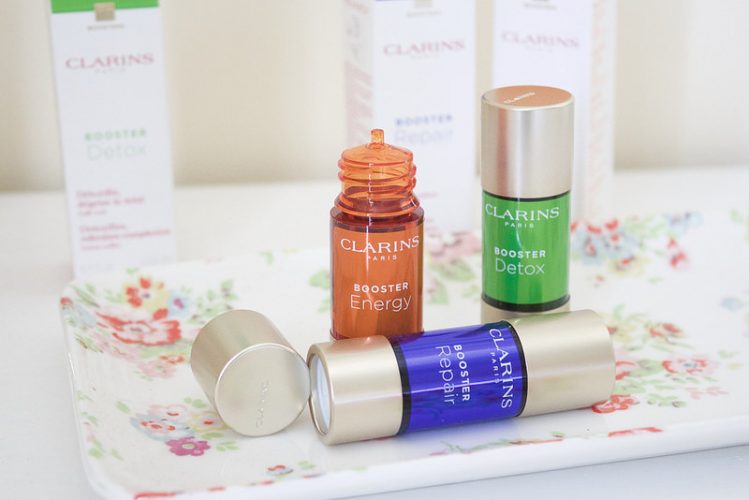 Repair Booster from Clarins is recommended for people whose skin has been damaged because of the harmful external factors, such as solar radiation, temperature extremes, irritating cosmetic ingredients, improper care or even lack of it. The main task of the product is to deeply regenerate, strengthen and nourish. Furthermore, Booster Repair contains mimosa extract. The plant has therapeutic and beauty properties. During the regular treatment, all redness is eased and the feel of burning or discomfort calmed.
Detox Booster from Clarins is a product especially designed for people who require a complex facial skin cleanse. This cosmetic removes sebum and toxins from the upper layers of the epidermis. What is more, it purifies the pores of the skin from all the harmful substances that have accumulated throughout the day as a result of eating unhealthy food, smoking cigarettes and air pollution. Detox Booster contains an extract of green coffee – African plant rich in caffeine. Thanks to this component, your skin regains its natural radiance and youthful appearance.
Energy Booster from Clarins is designed for people with dull or tired skin. Such cosmetics are especially useful for those who want to look good even after a sleepless night, an intense day of work or who have a long journey ahead of them. The product contains extracts of ginseng. In China, this plant is considered to have healing properties. How does Energy Booster work? Adds radiance to your skin, restores energy, evens, strengthens and reduces signs of fatigue.
All three Clarins Boosters are to be used in the same way. Simply add a few drops of the product to your favourite cream or serum that you use on daily basis. The biggest advantage of this cosmetic is that it can be used accordingly to your preference: once a day, once a week or even once a month. It all depends on the type of your skin and its needs. It is worth remembering that the boosters cannot be applied on their own. They really work wonders when combined with other products.
What about you girls? Do you have any reliable methods of regenerating, purifying, and – the most important – adding energy to your facial skin?