In the latest ShinyBox I found lip lacquer from Wibo, and I was extremely intrigued by it. Lip Lacquer Rock with Me is a first product of this type that I had chance to try. While shopping I would never buy cosmetic called by its manufacturer lacquer, and I would be sorry, because Rock with Me is great!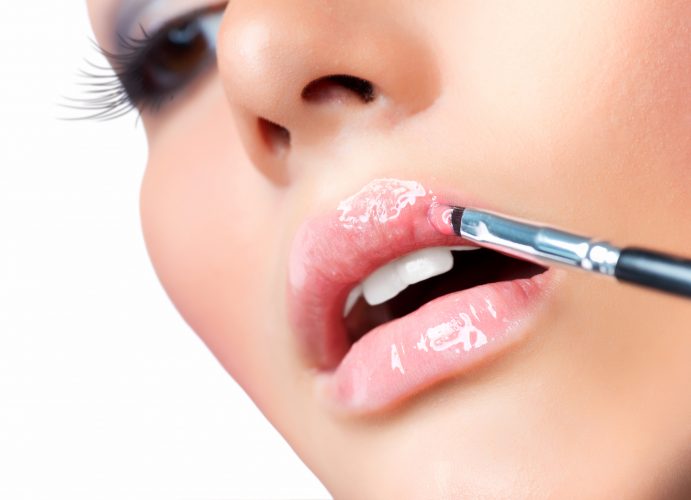 From the manufacturer:
Wibo Lip Lacquer is a long lasting lip lacquer with very light formula. The innovation behind it is that it combines the intensive colour of lipstick and the effortlessness of lip gloss. Lip Lacquer Rock with Me is a guarantee of long lasting, expressive and radiant make-up for hours. Wibo lip lacquer has also other properties, like smoother, moisturising effect and levelling dry lip skin.
Ingredients:
In the composition of this product main place is taken by polybutene, which increases gloss and tenacity of the cosmetic and makes distribution of the colour on the lips easier. Octyldodecanol prevents water loss and ensures indirect moisturising. Mica is a mineral pigment providing skin with radiant look. Consist of silica improves application and lecithin additionally moisturising. Aluminium oxide has cleansing and rubbing properties and colourants provide product with desirable colour.
First impression:
Wibo Lip Lacquer has handy, cubic packaging in black and golden colours. Each lacquer has also a strip in the colour close to the given lip gloss colour, but I'd advise you to not make decision based on the colour presented on the strip – the shade of the product differs from what the packaging presents. Applicator is exactly as in standard lip glosses, so there everything stays the same. Unfortunately, Lip Lacquer Rock with Me has only five shades, which I personally consider as a huge minus. I'd definitely prefer to have wider choice!
After application:
The application of Lip Lacquer Rock with Me is really pleasurable. Cosmetic has gel consistency and is very light. It doesn't spill, isn't weighting down the lips and is very long lasting. I do not have tendency to eat what I have on lips, so I can't tell anything about the flavour. 😉 However, scent is quite unpleasant. Rock with Me smells like combination of sweetness and chemistry. If your sensitive with smells then it may irritate you.
Results:
Lip Lacquer Rock with Me from Wibo is really great and highly pigmented lip product, because even one layer is enough to provide 100% cover. Smoother and moisturising is also very strong benefit of this product, but the durability of it isn't that great. It comes off very quickly (at least on my lips). Though, the most important is that Wibo doesn't cause dryness and isn't harmful for the lips.