By the end of last year Golden Rose released new line of "icy" nail polishes – Ice Chic. I love GR products, but unfortunately, this time I was disappointed. The effect of crystal clear colour and glossy nail plate with no effort? Sadly, no.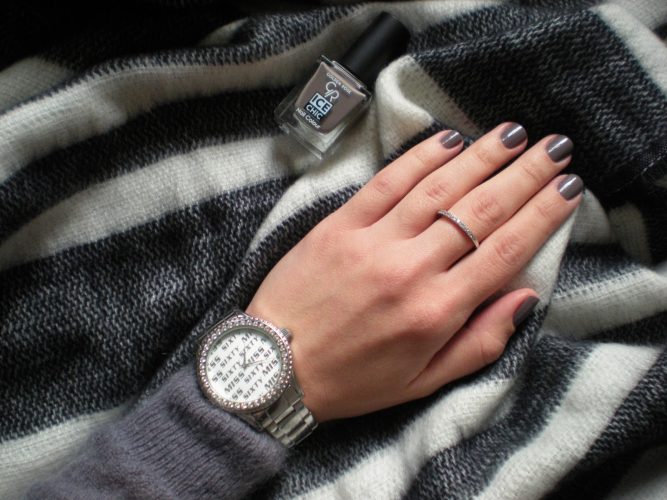 (+/-) COLOUR
Colour choice proposed by Golden Rose is truly wide, because we can choose out of over 80 shades! At first, I was delighted, because who doesn't like to have such a big choice? Only when I looked closer to the palette I noticed few colouristic shortages, though despite of that it is undeniably wide choice. Gamut of colours is huge (white, beige, brown, violet, red, black, grey, sky blue and related colours), but where is green, yellow and orange?
If I would be thorough then I think I could count sea-green no.73 and brocade soft green no.104 as green nail polishes, and golden brocade colour no.102 as yellow colour. But there is no juicy green, sunny yellow and orange or their pastel versions. Besides, some colours have extremely similar colours (especially white, beige and pink shades), so I think I could easily make out of several colours few less.
(+/-) TEXTURE
It is difficult for me to state GR Ice Chic formula, because I have quite untypical expectations. I love liquid nail polishes for which many girls have no patience. Golden Rose Ice Chic has a texture close to my favourite consistency of nail polishes, i.e. watery. GR Ice Chic Nail Colour isn't thick and covers nail plate in every corner. Surely, inexperienced person will have a problem with painting nails with a nail polish with such a consistency and such a thick brush – you can easily overflow the cuticles, go out of nail lines and people with very narrow nail plate will have exceptionally difficult job to do.
(-) COVER
The cherry on the top of this clinker, known as Golden Rose Ice Chic, is its cover. First layer of nail polish is almost transparent, but it is rarely seen for the nail polish to have perfect cover after one layer. Sadly, Ice Chic Nail Colour wasted its chance after second layer, which also didn't bring the desirable effect – unequal cover. Only third layer was acceptable, but promised wow effect was nowhere to be seen. Before you ask – I am not talking about just one colour, because I tested several of them from Ice Chic gamut and all of them have exactly the same effect.