Do you fancy reading a review of a Nanoil Keratin Hair Mask?
I'm sure you do! <3
If your hair is dry, split, frizzy or damaged, just like mine was, you must keep reading because this mask is made for you, and you'll be taken aback by the results!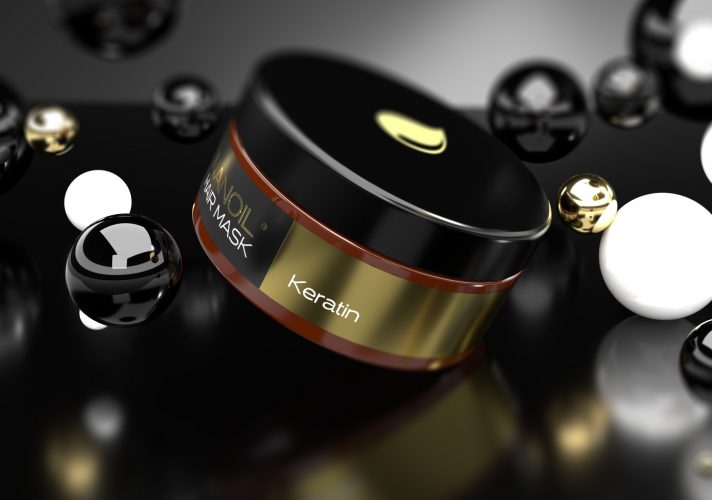 Liquid keratin hair mask by Nanoil
Nanoil offers a range of 5 different hair masks so everyone will find the right one. There's a mask rich in argan oil, liquid silk, activated charcoal, and algae extract.
I chose the keratin-based hair mask. I guess it's the best-selling mask by Nanoil, and it was most suitable for my hair needing instant repair.
Does the Nanoil Mask handle damaged hair?
Keratin-infused formula to salvage ruined hair
Nanoil offers a protein-based treatment, ideal for damaged hair, because it contains a very important ingredient: hydrolyzed liquid keratin which mends damage to both innermost and external layers of hair.
There's more in the formula, though. Panthenol moisturizes and conditions the hair while lightweight silicones make it smoother (only the ones that are easily removed from hair and don't weigh it down).
Is this mask good for damaged hair only?
Nanoil Keratin greatly enhances hair which is:
dry | brittle | delicate | damaged | frizzy | splitting | unruly | weak| dull | coarse
Even though it's been created for repairing damage, you can use it as a preventive step freely. If your hair is getting dry or dull-looking, use Nanoil Keratin Hair Mask for a strengthening effect. You don't need to suffer from breakage or split ends to enjoy the benefits of the Nanoil Mask.
Effect of Nanoil Keratin Hair Mask
It was love at first… use! If a product turns your hair into smooth and glossy tresses after just one application, then you feel like reaching out for it over and over again.
By using Nanoil Keratin Hair Mask regularly, we get more benefits:
hair repair and strengthening
no more split ends
anti-breakage effect
smoothness, resilience, softness
healthy, lovely shine
anti-hair loss effect
Application in a few simple steps
Next to the excellent ingredients, countless benefits and non-overburdening effect, there's one more reason for loving the Nanoil Mask: it's easy to use. You don't need to spend hours at the salon because hair repair can be done effortlessly during a washing routine.
How to use the Nanoil Keratin Hair Mask?
Wash the hair and rinse the shampoo thoroughly.
Scoop some mask and smooth it across the strands from roots to tips.
Optionally, wrap a warm towel around the head for better results.
You can wash the mask off after just 15 minutes.
Comb, dry and style as usual.
Does this mask have any bad sides?
I'm listing the good sides of the mask but you probably want to know the flaws too. All beauty products have them.
I don't like that the mask is available mostly online. If you like to wander around the shops, hold a cosmetic, smell it, then you won't like this fact either. I wouldn't know about the Nanoil Masks if my friend hadn't told me about them.
It works really great so I also wish the jar would last me longer. Still, it isn't a big problem because the Nanoil Masks are affordable, and we can buy more. It really pays.