Sephora is my favourite brand and I always wait for their cosmetic novelties with impatience. This time even I, though accustomed to surprising ideas of Sephore, was in a slight positive shock. This April is about to be set sale of cosmetics out of Disney Minnie Mouse collection! The introduction to cartoon cosmetics for adult fans of Disney looks beautiful. I think I might get one for myself. 🙂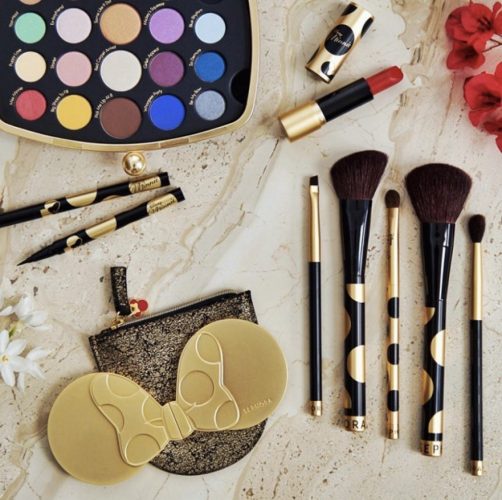 Not so long ago, Sephora announced that in April 2016 to their shops will get newest collection of seven cosmetics inspired by Disney character, lovely Minnie Mouse. I think we couldn't dream about sweeter line. Minnie Mouse Collection from Sephora is the best out of spring lines, which is supposed to remind of fabulous world of our childhood. Unfortunately, it is not known if this limited edition will be available outside USA.
Minnie Mouse cosmetic novelties present very elegant. When I heard about Sephora Minnie Mouse Collection I was convinced that it will be another pink line of Disney cosmetics. Sephora surprised everyone with beautiful design in black and gold dots with elements of red and omnipresent mouse ears. Minnie Mouse limited edition are truly cosmetics dedicated for an adult fans of Minnie.
Elegant black and gold packaging hides high quality cosmetics for everyday make-up – from eyeliners to eye shadows palette. What will we find in seven-pieces Minnie Mouse Collection?
Minnie's Black and White Felt Liner Duo, i.e. set of two eyeliners for creation of perfect lines and subtle or expressive look.
Minnie's Inner Glow Luminizer, i.e. highlighter in perfectly pink shade, which will beautifully illuminate, blush and give skin radiant appearance.
Minnie's Shadow Palette, i.e. palette of 20 shades in beautiful shades of beige, through pink and violet to green, red and blue.
Minnie's Lipstick, i.e. subtle lipstick in colour of red, intense cherry, which will be perfectly matching rest of cosmetics.
Additionally in the set available will be Minnie's Brushes set, i.e. five-piece set of make-up brushes (powder, blusher and shades brush, but also one for precise make-up). No make-up can take place without mirror, so Minnie Mouse Collection have compact mirror in shape of mouse's ears.