Hello to all of you 🙂
Today I'm going to take a closer look at Lashcode mascara that, being talked into by my friend, I ordered two months ago (free shipping if you order 2-pack). I've been using Lashcode for 5 weeks now.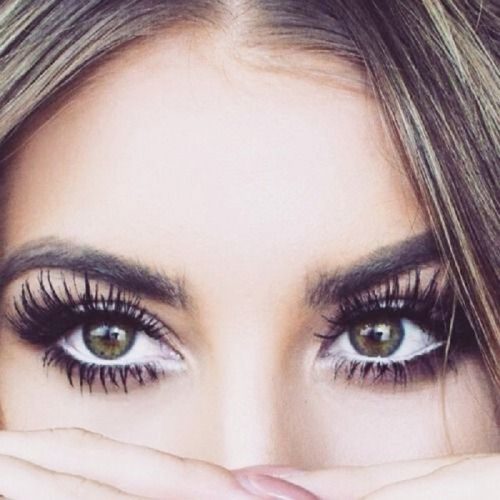 Does Lashcode mascara deserve to be recommend?
Let me invite you to a fresh review of a mascara that promises to create stunning effects and offers extra lash conditioning properties!
LASHCODE MASCARA
At the beginning, let me introduce you the hero of today's post. The basic info first: How much is Lashcode? What brush type does it have? And other things that you should know about this color cosmetic.
How much is it?
Well, it depends on how many tubes of Lashcode you order and whether you get some discount. Therefore, it's hard for me to tell you how much Lashcode is exactly, but go on lashcode.co.uk to learn the current price. Although it's not the cheapest mascara that you can get, to me, it's worth spending money on Lashcode.
What brush type does it have?
Lashcode is a mascara that comes with a silicone wand. I didn't use to be a fan of such brushes but now I know that they allow the most precise product application. Especially here where the size of the applicator is just perfect, the length of bristle varies and is thick in general, the tips are narrowed – all of this ensures flawless and incredibly effortless eye makeup.
What are the ingredients used in Lashcode?
In my view, the formula of Lashcode is one of this mascara's best suits. Basically, I don't pay much attention to the ingredients that a particular mascara includes. But this time the composition grasped my attention because the producer boasts about creating the base of the mascara from vegetable waxes and a mineral pigment which makes the mascara perfectly suitable even for sensitive eyes. Apart from that, Lashcode contains:
soy and wheat sprout extracts.
Baikal skullcap root extract.
pro vitamin B5 (panthenol).
arginine and rejuvenating vitamin E.
MY VIEW ON LASHCODE MASCARA
Even though the official Lashcode website promises us to achieve out-of-this-world effects, I didn't expect to get that fabulous results. I had in mind all the waterproof and natural mascaras that I have applied to my lashes… well, they didn't fulfill my expectations – to put it in a nice way.
To my surprise, it wasn't the case with Lashcode. I've been using this mascara for 5 weeks now and I can tell you that it leaves me amazed every time I coat my lashes with it.
What is the consistency?
Neither is it greasy or heavy. The velvety consistency is easy to distribute evenly along eyelashes. It just plays in tune with the great applicator – that I've mentioned before – and coats each and every, even the tiniest eyelash. No lumps, no clumps, no smudges. Do you know that this is the first mascara that allows my lashes to remain elastic even when coated?
What are the effects?
I could spend hours talking about the effects delivered by Lashcode. To me, this is the best mascara that is currently available on the market. Not only does it enhance lashes incredibly well but also it conditions (moisturize, nourishes and regenerates) while you wear its coats. Owing to the ultra-black pigment and well-selected ingredients, Lashcode
makes even the tiniest lashes darker.
provides shine and flexibility to lashes.
boosts lash volume even up to 2 times.
adds body to lashes and makes them full-looking.
prevents lash loss and accelerates their growth.
maintains the adequate level of hydration and nourishment.
Is it long-wearing?
I've come across various opinions concerning the durability of Lashcode. However, I'm totally satisfied with the Lashcode wear.
It isn't a waterproof mascara but it remains on lashes unchanged for the entire day. I can't notice any smudges or black dots, it doesn't flake off either. Since Lashcode isn't waterproof, its removal is a piece of cake. Luckily, you don't have to wipe it off with a cotton pad so there is no lash breakage or plucking while taking the mascara off.
SUMMARY
Would I recommend Lashcode mascara?
I'm a big fan of mascara products that aren't only long-wearing but also take care of eyelashes and create cool makeup effects. And this is why I fell in love with Lashcode!
This mascara gives me everything I need from this type of beauty product: long-wear (despite being non-waterproof), stunning lash thickening, dark lashes and subtle lash conditioning.
I TOTALLY RECOMMEND YOU LASHCODE <3