GlamGlow is a brand, which stole my heart! I love using face masks, but until now those were mostly much cheaper products, because GlamGlow is a quite expensive investment. Nevertheless, I think that Hollywood beauty secret is worth it! Today I would like to present to you my favourite GlamGlow face mask, which I tested: Super-Mud Clearing Treatment.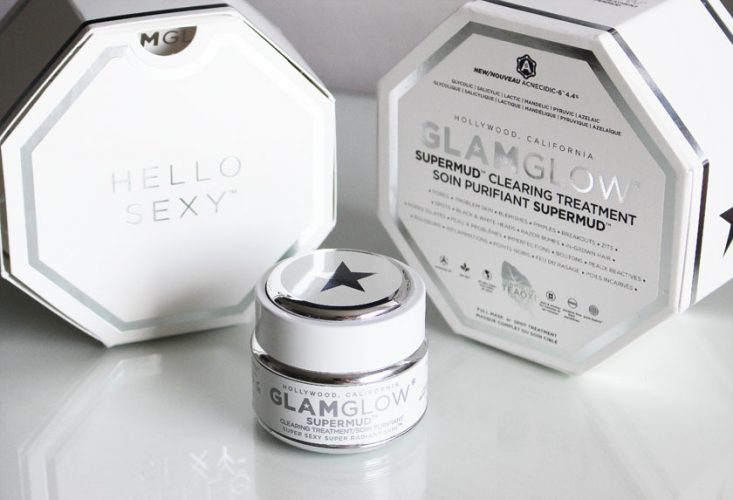 White face mask SUPERMUD Clearing Treatment
Locked in white jar face mask from GlamGlow line guarantees fast results in fight against skin problems, like pores, pimples, discolourations or blackheads. Cleansing mask SuperMud Clearing Treatment is an advanced formula, which is supposed to make skin radiant, help in getting rid of enumerated problems, eliminate irritations and deeply cleanse skin. SuperMud Clearing Treatment is based on two formulas.
ACNECIDIC-6 contains:
glycolic acid (reduces skin damages),
salicylic acid ( unclogs and tightens pores),
lactic acid (moisturises and stimulates collagen production),
mandelic acid (reduces wrinkles and makes skin more elastic),
pyruvic acid (highlights skin and heals wounds),
azealic acid (removes bacteria on skin).
TEAOXI contains:
eucalyptol from gum tree (helps in detoxification of skin),
mint extract (soothes irritations and has antibacterial properties),
liquorice root (helps in elimination of skin problems),
K17 volcanic clay (removes sebum, toxins and bacteria),
activated carbon (cleanses out of sebum, bacteria and toxins),
aloe vera, camomile, cucumber, marigold and ivy (soothes irritations, calms and heals).
My feelings about it
GlamGlow SUPERMUD is a mask resembling in texture clear mud, but to me it looks like concrete. 🙂 This grey goo with strong mint scent applies pretty well. It dries like standard face mask with clay and tightens great. White GlamGlow mask is in my opinion very efficient, because even small amount precisely covers skin (manufacturer ensures that SuperMud Clearing Treatment will last for up to 17 applications).
What are the results?
There is no point in telling you how great is GlamGlow SUPERMUD mask, because best would be if you test it yourself. Cleansing effect is spectacular – skin becomes smoother, pores are almost completely clear (during drying of mask appear small spots and bubbles in places where pores where and that is the effect of Pore-Matrix), skin is radiant and soft. Cosmetics applied on cleansed like that skin absorb immediately. Big plus is that is equalises skin texture, which gains equal skin complexion.